* Special Limited Edition - LE20

* Model Doll - Mirror Mirror ; Tattoo Hayarn - LE20
Mirror Mirror
In a palace full of acute tension sharp as needles,
Allow descent of the darkness behind the sigh of despair and sadness
to open a secret door calling out your name
Even if the whirlwind of misfortune puts all odds against you
You won't open the mirror that has been locked for thousands of years
I have always dreamed of the rebirth of darkness.
So when the world crumbles down in the embers of the fire,
I'll dance to hold a festival with the shadows of darkness.
Tattoo Ha-Yarn is a strong feminine attraction with a mysterious ambiance.
She has been reborn as an ancient wicked woman.
Her alluring look with mythical overtones is her key selling point.

=====================================================================================
* Included: Model doll Female normal skin tattoo body (high heeled feet) + Hayarn head (face-up)
eyes, wig, head ornament, clothes set, box, 2 cushions, warranty.

* Body includes nail varnish & toe nail varnish
* Clothes set : dress, belt, head ornament, shoes
 (The feather in the photos isn't included to full set, it was for creating an image)

* Eye : D - Basic 16mm Glass Eye (HA04)
* Wig : (7-8) Risca Long Straight Wig (Black)
* Shoes : Model Doll F(high heels's) Shoes - Elani Shoes (Black)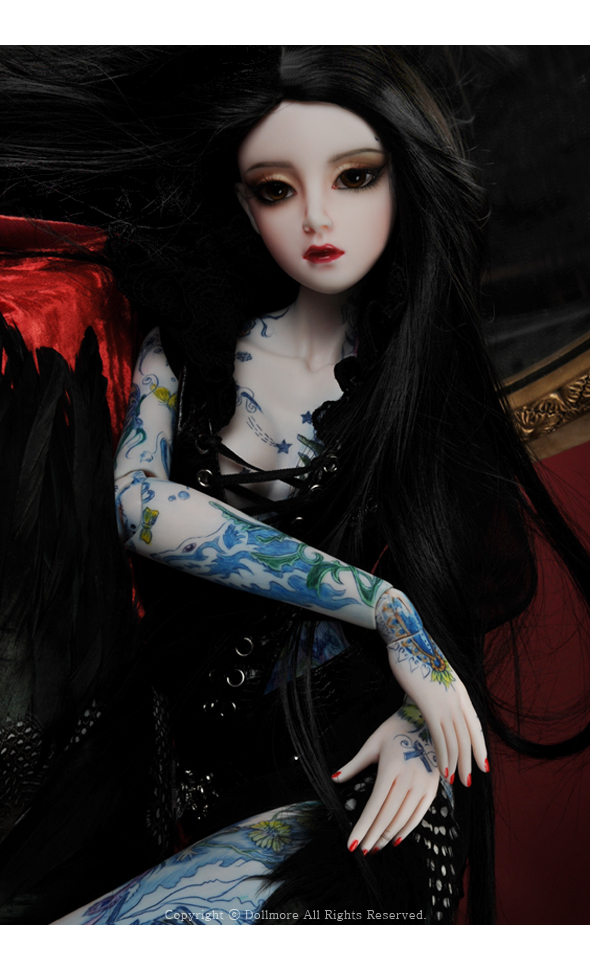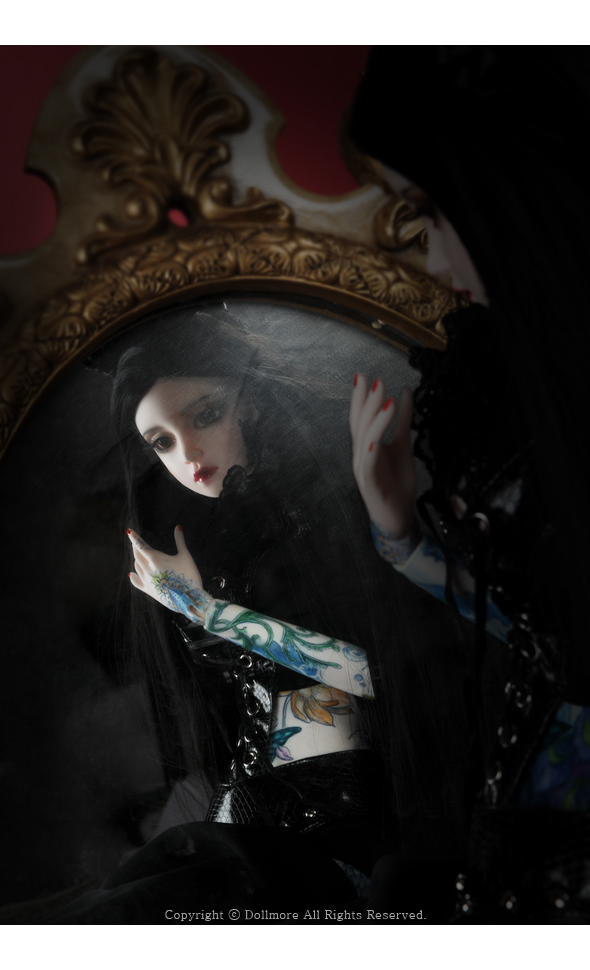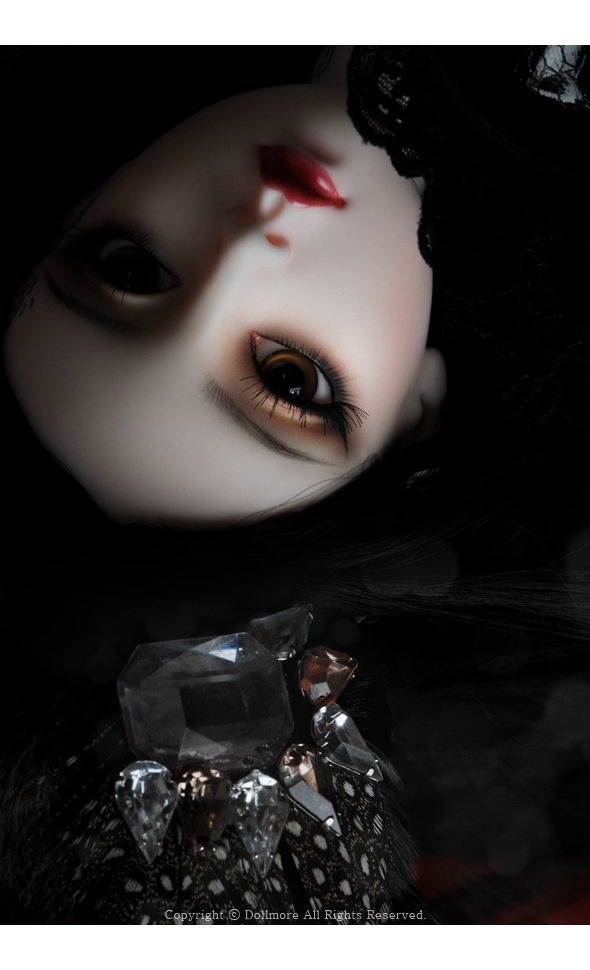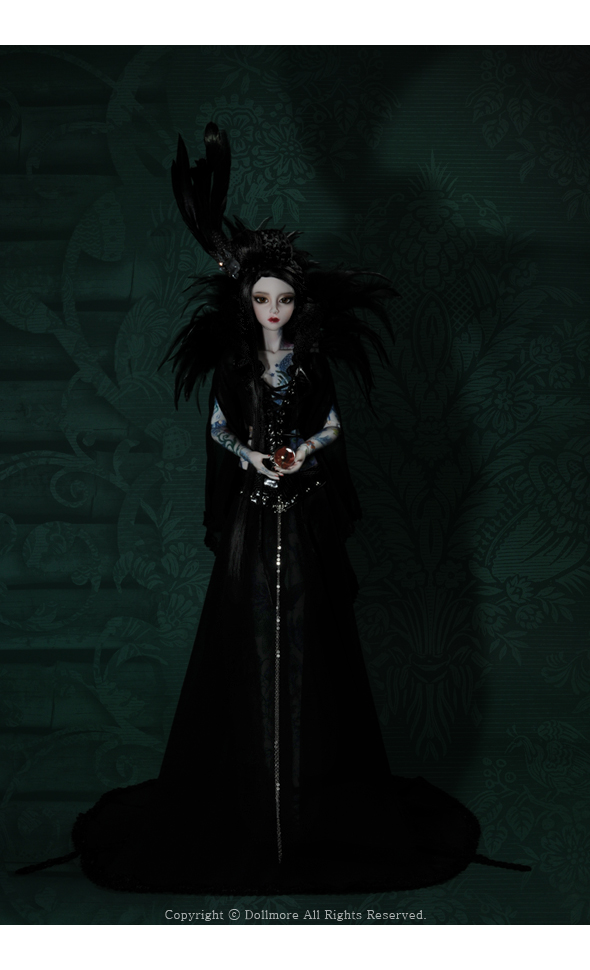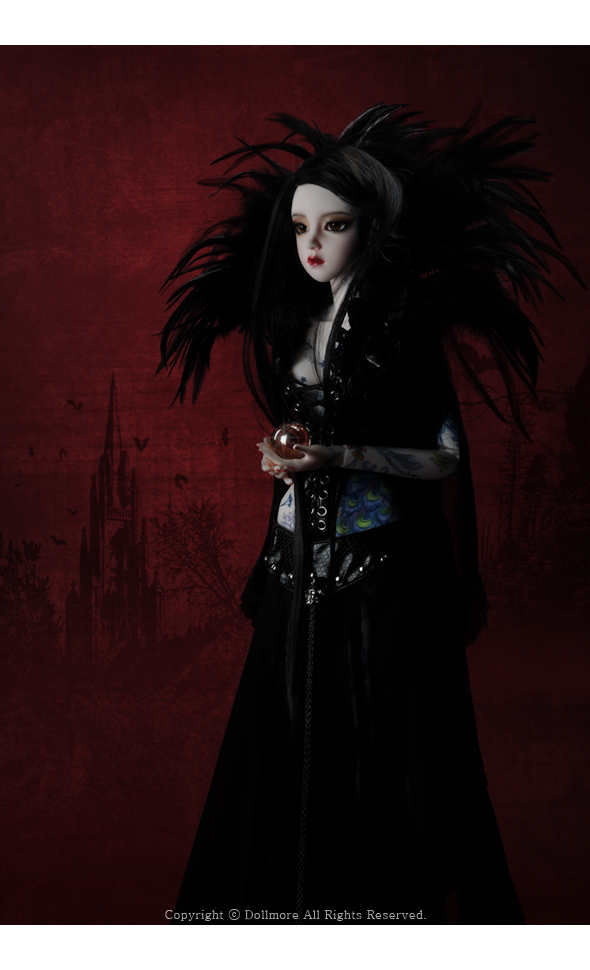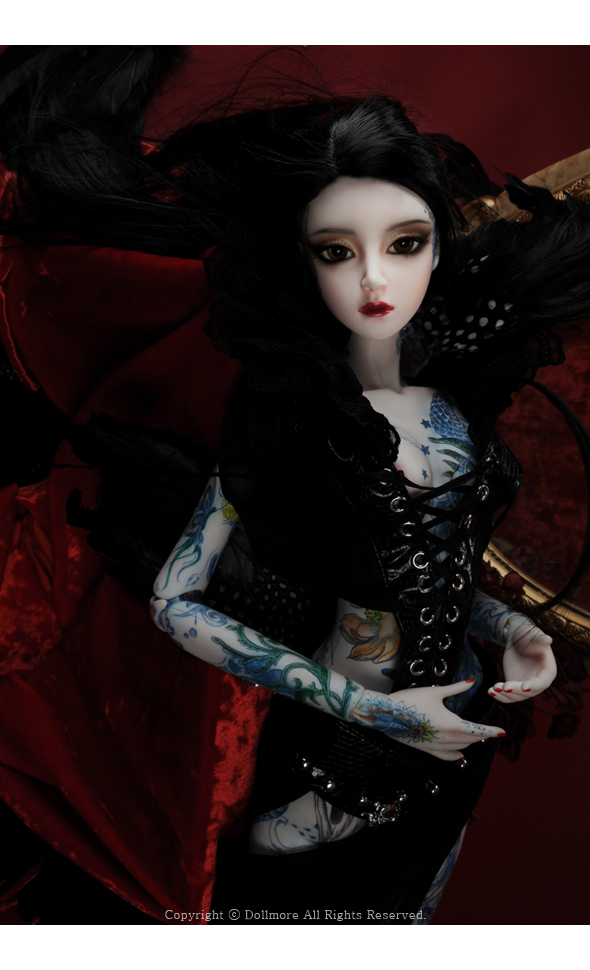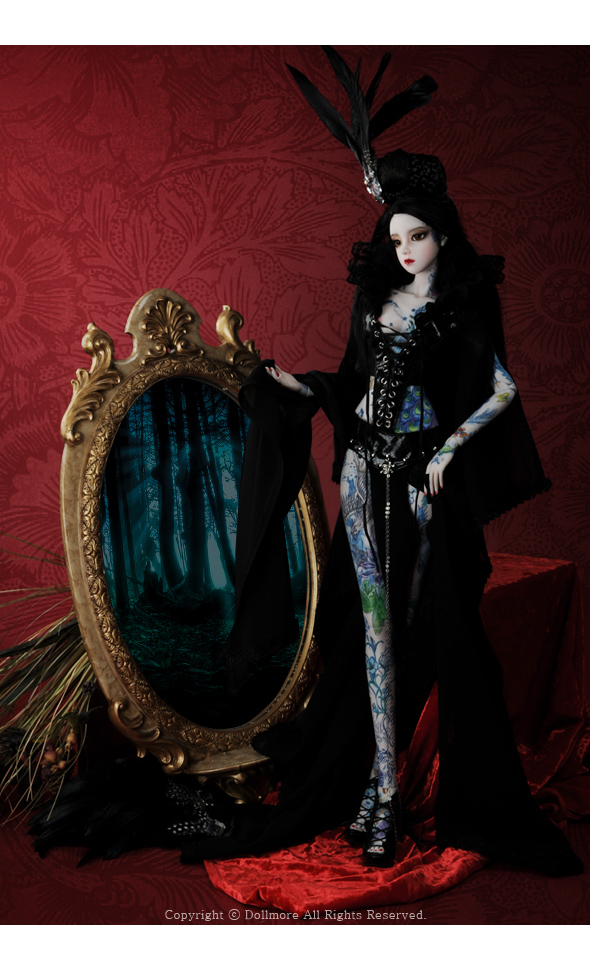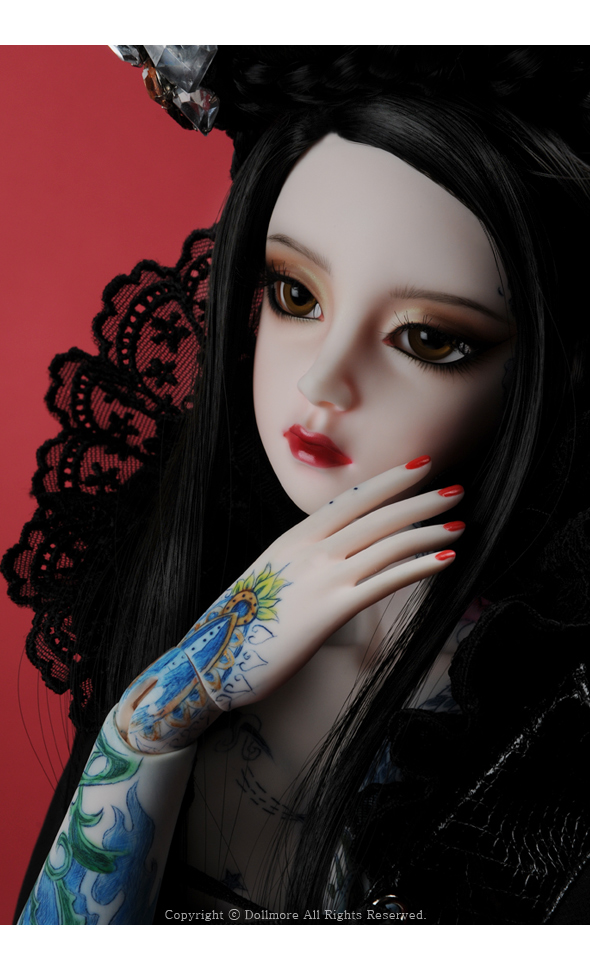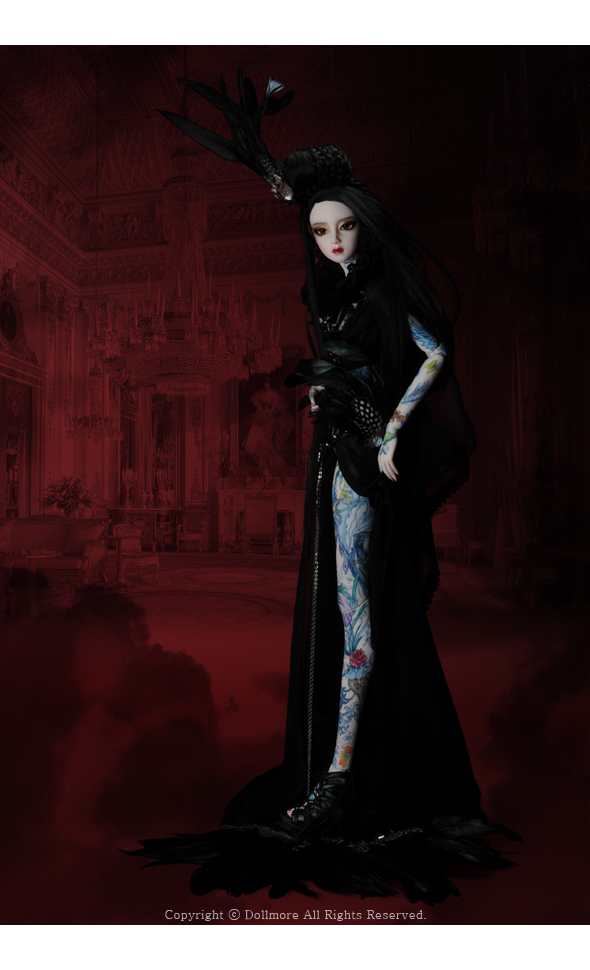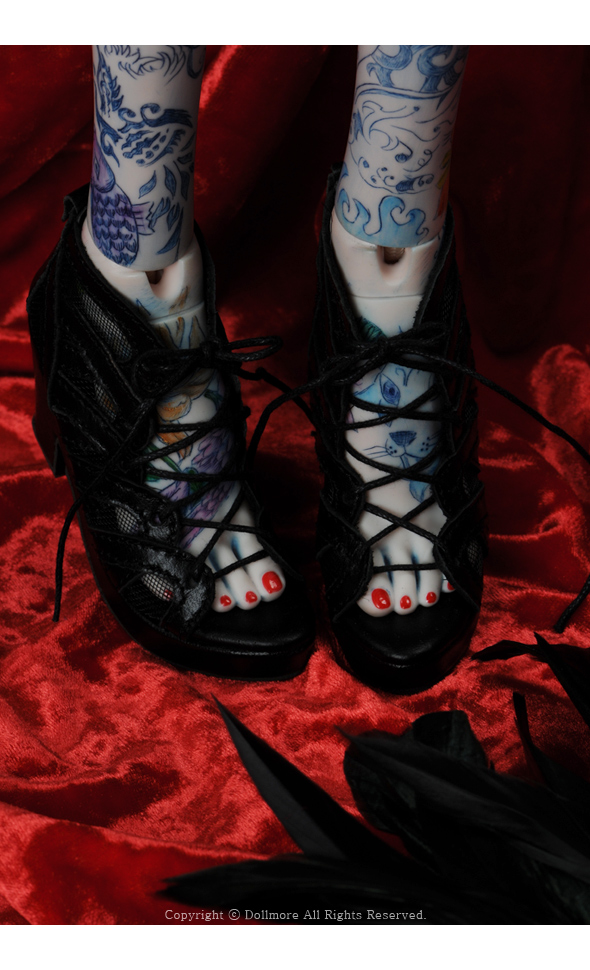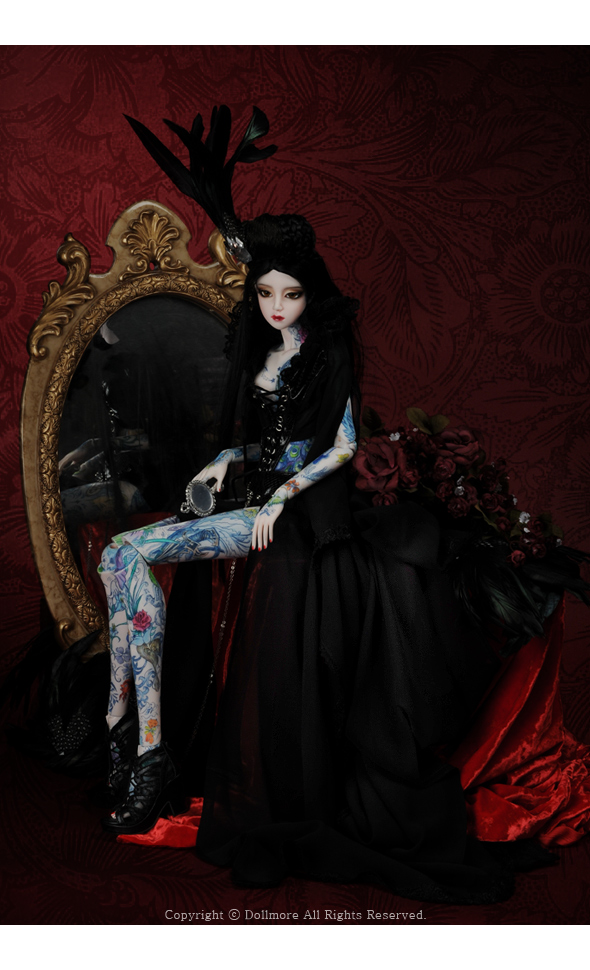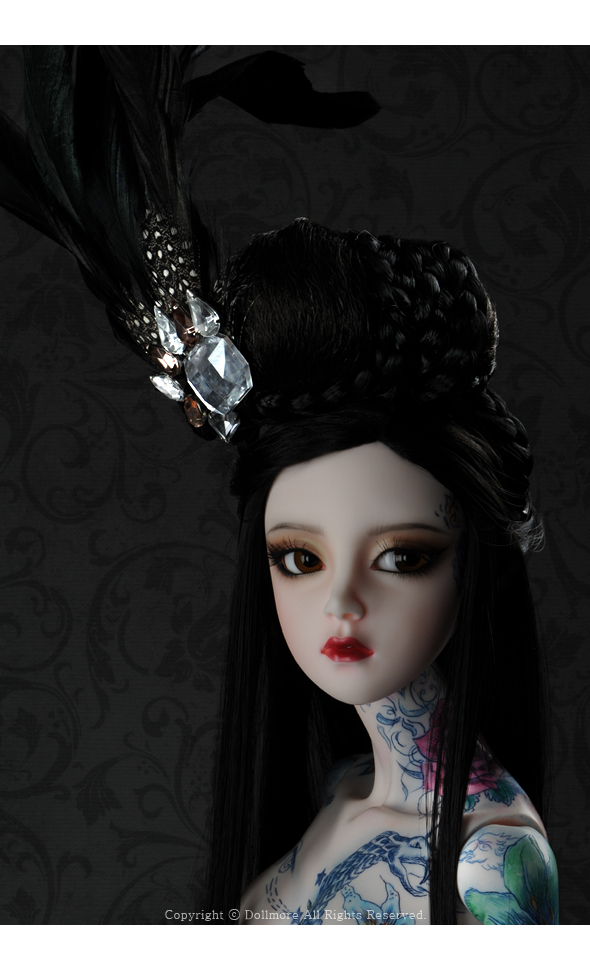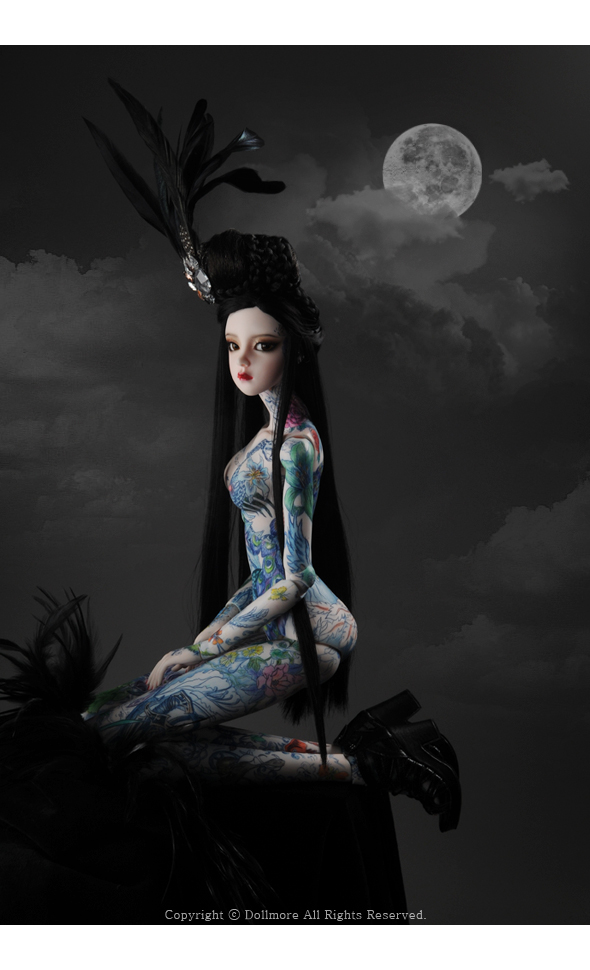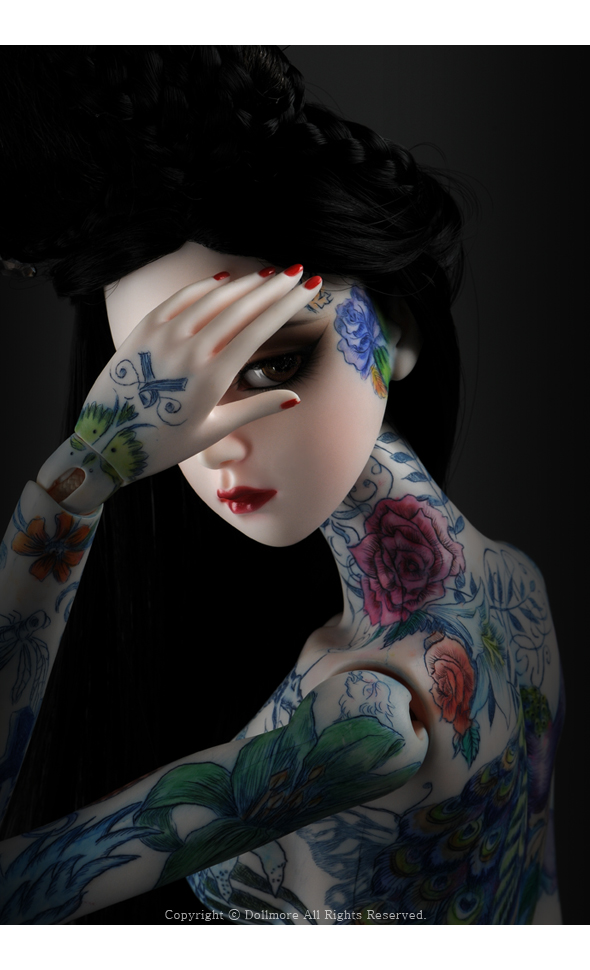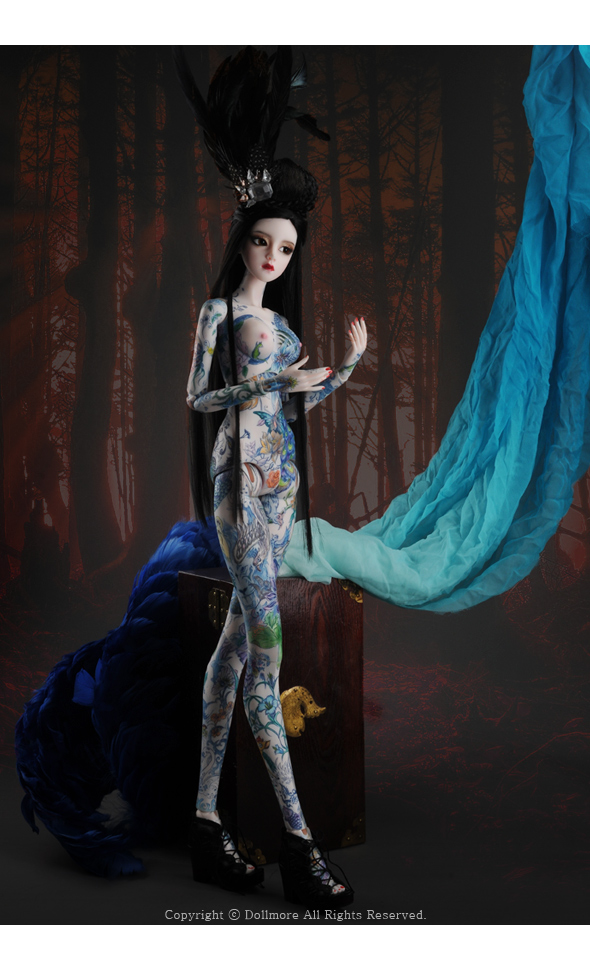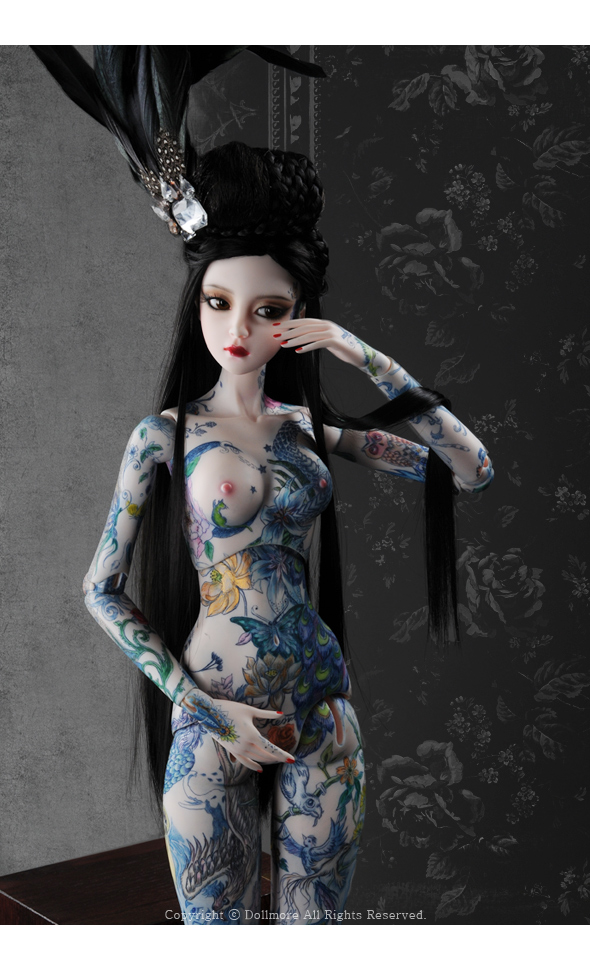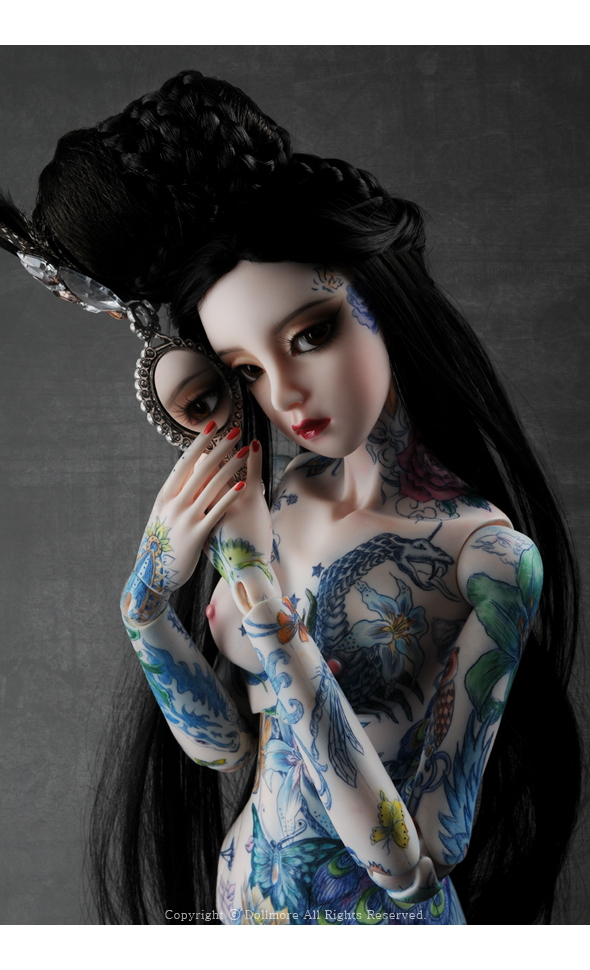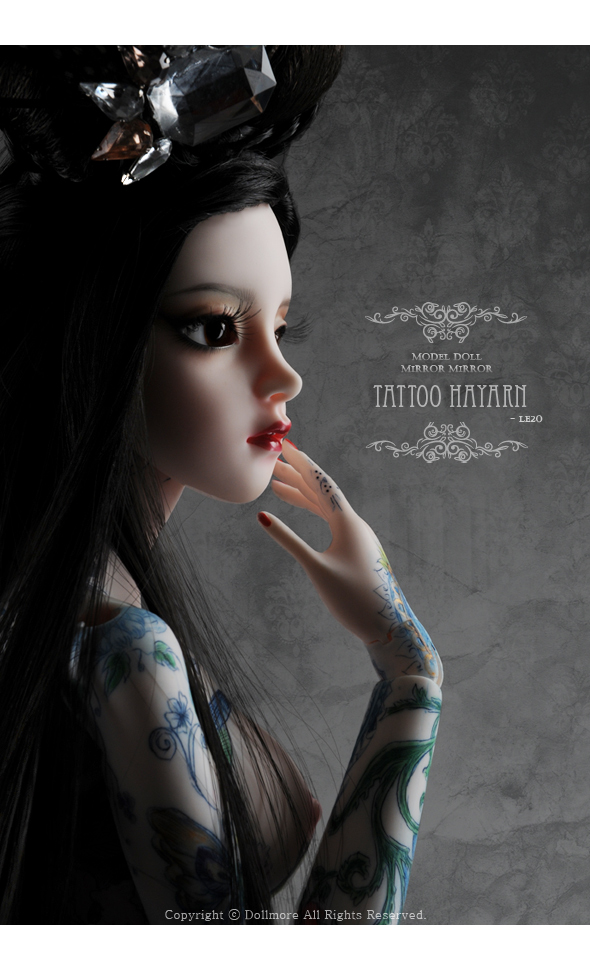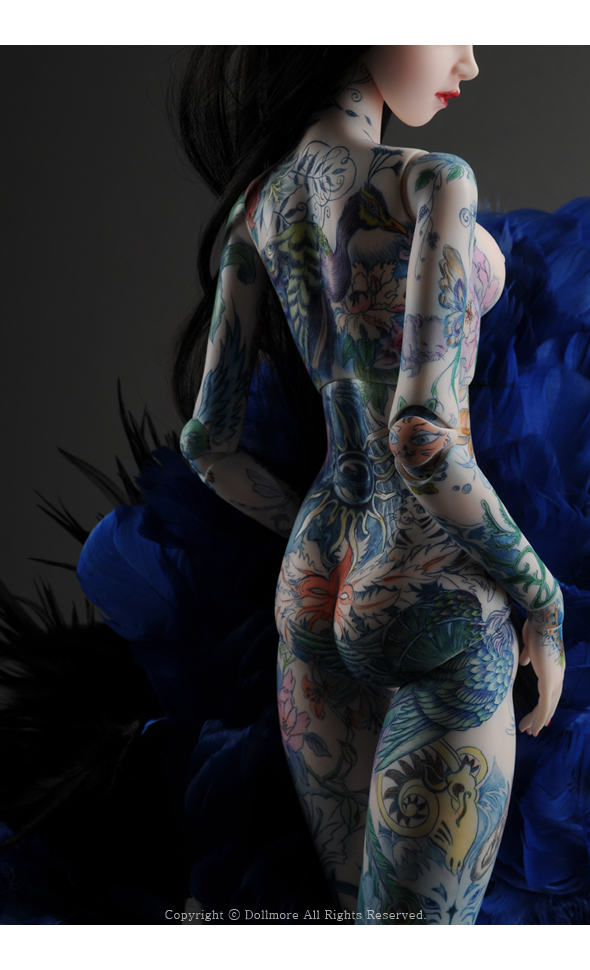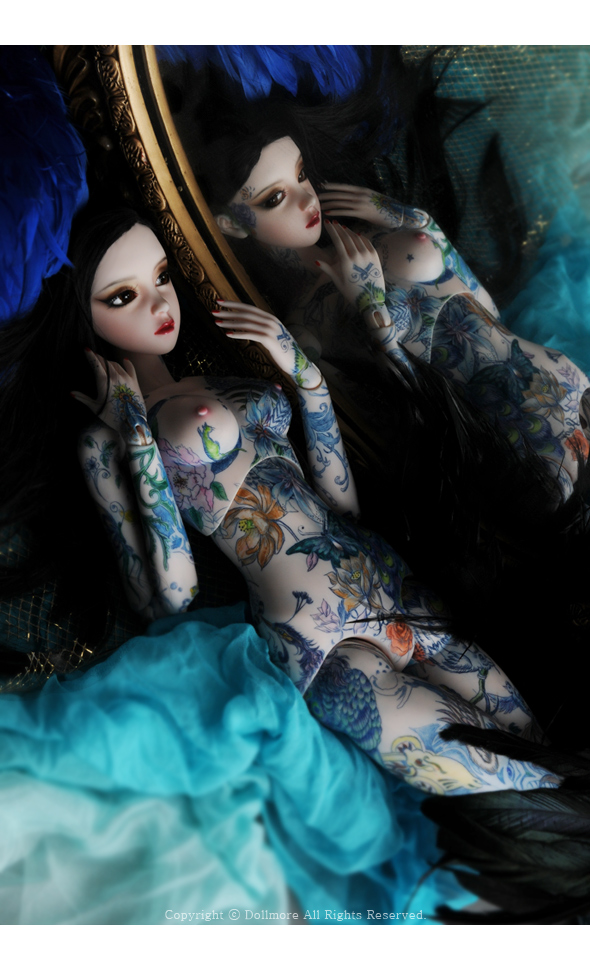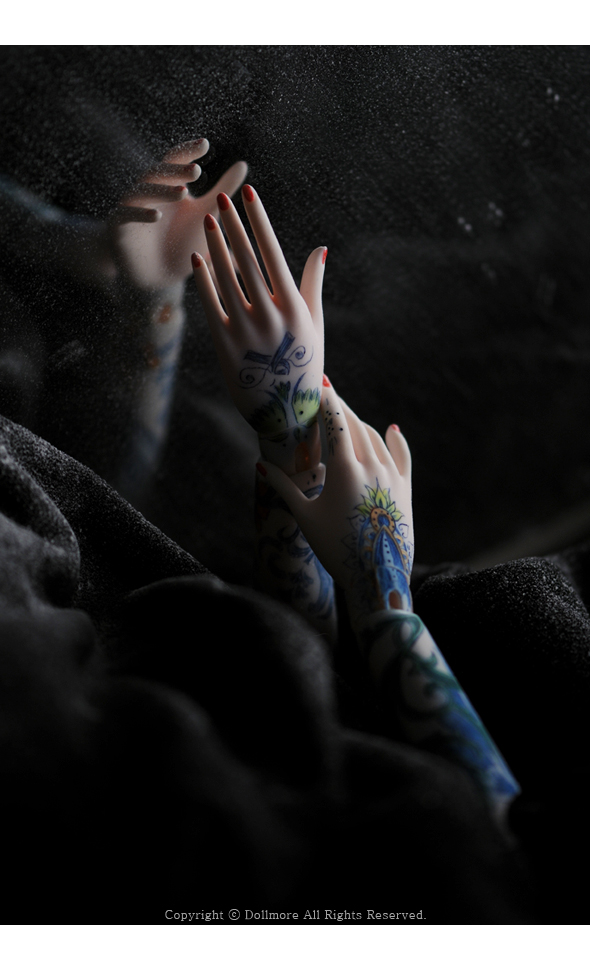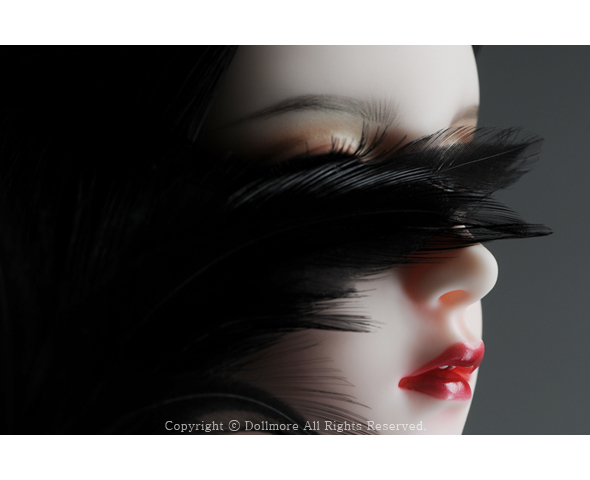 * The hand-work tattoo painting may be slightly different in colors.
* Some abrasion and peeling paint on joints may be caused,
as changing the poses in various ways due to the nature of ball jointed dolls.
* Model Doll F Hayarn Size
1. Tall : 66.5cm
2. Body length not include a head : 59.5cm
3. Length from hip to knee : 19cm
4. Length from knee to calf : 18.5cm
5. Circumference of neck : 7.7cm
6. Width of shoulders : 8.5cm
7. Circumference of chest : 29cm
8. Circumference of waist : 17.5cm
9. Circumference of hips : 28cm
10. Circumference of Wrist : 5cm
11. Length from shoulder to wrist includes a wrist ball : 20cm
12. Circumference of ankle : 7cm
13. Length from hip to Heel : 39.5cm
14. Length of Foot size : 7.5cm
* For information about order and shipping

- As based on 'Production after order' system, your order can't be canceled, after paying.
- The shipping date may be delayed a little more on hand-made work. Seek your understanding.
- In general, It takes about a month from the date of your payment.
* Payment method
1. Paypal - Dollmore will send you a invoice via paypal. (help@dollmore.net/necking@dollmore.com)
2. Paygate (direct credit card payment)
3. Bank transfer.
- Bank name: Korea first Bank
- Account: 431-20-243375
- Recipient: lee eun young)
- Bank tel: 82- 2- 521- 9252
- Bank address : KOREA FIRST BANK 1675-1
Seochodong Seochogu Seoul 137-070 Korea
Gyodaeyeok Br.
- SWT code : SCBLKRSE
* Design registration No. 2006-50002